K5N series hall effect current sensor is an open loop device based on the measuring principle of the hall effect, with a galvanic isolation between primary and secondary circuit. It provides accurate electronic measurement of DC, AC or pulsed currents.
Electrical data (Ta=25ºC±5ºC,RL=2KΩ,CL=10000PF)
Type
K5N-200A
K5N-400A
K5N-600A
K5N-800A
K5N-1000A
K5N-1500A
Unit
Rated current(Ipn)
±200
±400
±600
±800
±1000
±1500
A
Measure range(Ip)
±400
±800
±1200
±1600
±2000
±2000
A
Rated output
@Ip=±Ipn ±4±1%
V
Supply voltage
±12,±15
V
Power Consumption
<25
mA
Offset voltage
@Ip=0 ±20
mV
Magnetic offset
@Ip=±Ipn-0 ±15
mV
Offset drift
@ -40~+85ºC ≤±1
mV/ºC
Output drift
@ -40~+85ºC ≤±1
mV/ºC
Linearity
@Ip=0-±Ipn ≤1
%FS
Response time
@50A/μS, 10%-90% ≤5
μs
Galvanic isolation
@ 50HZ,AC,1min 3
KV
Isolation resistance
@ DC 500V 1000
MΩ
·Variable speed drives
·Welding machine
·Battery supplied applications
·Uninterruptible Power Supplies (UPS)
·Electrochemical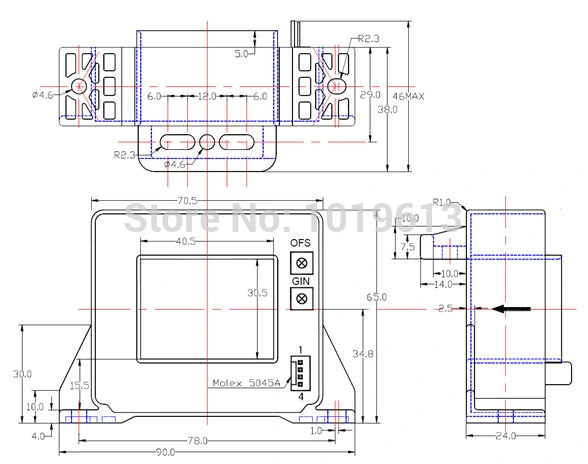 Remarks:
1. All dimensions are in mm.
2. General tolerance ±1mm.
3. Elucidation: 1:+15V 2:-15V 3:V0UT 4:0V
1. When the current will be measured goes through a sensor, the voltage will be measured at the output end.(Note: The false wiring may result in the damage of the sensor)
2. Customs can adjust Output amplitude of the sensor by needs.
3.Custom design in the different rated input current and the output voltage are available.
·UL94-V0.
·EN60947-1:2004
·IEC60950-1:2001
·EN50178:1998
·SJ 20790-2000
| | | |
| --- | --- | --- |
| | Value | Unit |
| Operating temperature(TA) | -40 to +85 | ºC |
| Storage temperature(TS) | -40 to +125 | ºC |
| Mass(approx) (M) | 290 | g |