PRODUCT INTRODUCTION:
This series compensating alternative stabilizer is introduced by our company combining advanced technology in west Europe with our national condition. When the fluctuation of voltage or the load changes, it can autom atically keep the stability of the output voltage.
This series products, compared with other types, have the advantage of big capacity, high efficiency, small waveform deformation, smooth voltage regulation, wide range of load, the ability of undertaking instant overload, long-term continuous operation, manual & automatic control method, protective function of over- voltage, short-circuit and mechanical transmission failure, little volume and weight, easy and convenient use, reliable operation, etc.. This series can be used as high quality alternative voltage stabilizing supply for in dustry, agriculture, transportation, military, postal offices, railway, scientific research institutes, precision machine tools, industrial production line, medical facilities, architectural engineering equipment and testing equipment air condition, broadcast and TV stations and hotels.
PRODUCT MODEL: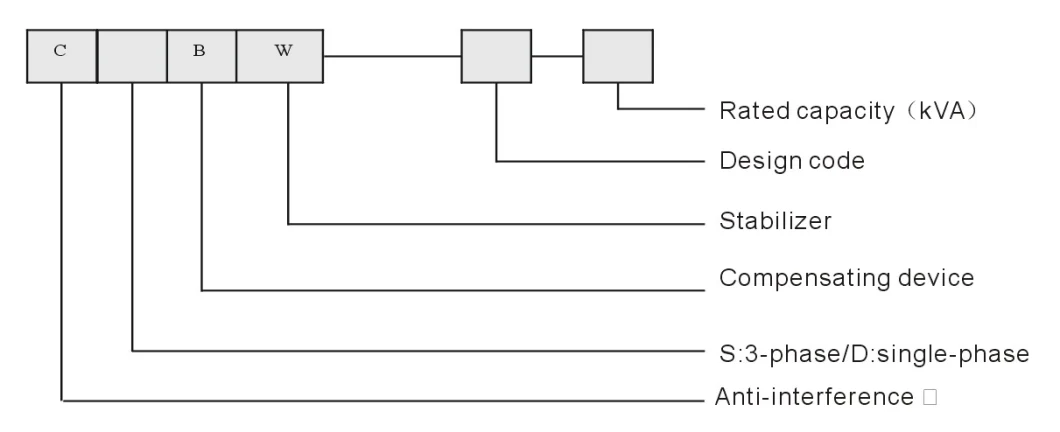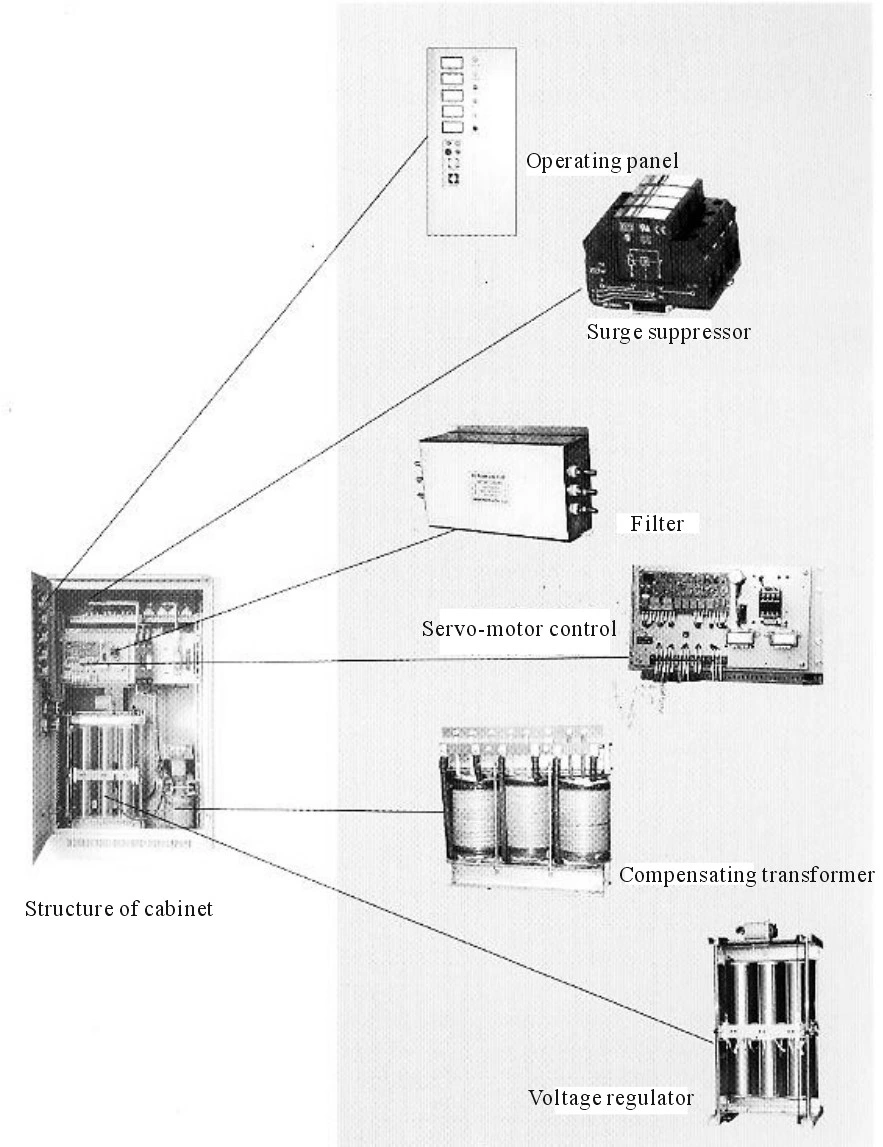 MAIN TECHNICAL SPECIFICATIONS:
Phase

TYPE

Rated Capacity


(KVA)

Output Current
(A)
Size(mm)
Width*Height*Depth

Number of cabinets

Weight(kg)

Three

CSBW-10

10

16

550*700*1100

Single

200

CSBW-20

20

31

280

CSBW-30

30

46

550*760*1350

320

CSBW-50

50

76

375

CSBW-100

100

152

650*950*1650

460

CSBW-180

180

278

750*1050*2200

520

CSBW-225

225

342

600

CSBW-320

320

487

850*1200*2200

750

CSBW-400

400

608

860

CSBW-500

500

760

800*1050*2200

Double

1080

CSBW-600

600

928

1120

CSBW-800

800

1238

850*1200*2200(main)
850*1050*2200(deputy)

1550

CSBW-1000

1000

1550

900*1500*2200

1680

CSBW-1200

1200

1825




950*1050*2200




Three

2180

CSBW-1400

1400

2380

CSBW-1600

1600

2580

CSBW-1800

1800

2780

CSBW-2000

2000

2980

Single

CDBW-3

3

14

420*250*420

Single

37

CDBW-5

5

23

420*250*420

42

CDBW-10

10

46

500*300*500

63

CDBW-20

20

91

500*700*1100

180

CDBW-30

30

137

250

CDBW-50

50

228

550*760*1350

320

CDBW-100

100

455

650*950*1650

420

CDBW-180

180

750*1050*2000

520

CDBW-225

225

600

CDBW-300

300

900*1200*2140

680
Three-phase

Single-phase

Input Voltage(V)

304-456

176-264

Output Voltage(V)

380V±5% Can be set

220V±5% Can be set

Withstand Voltage

2000V,1minute

1500V,1minute

Insulated Electric Resistance

≥2MΩ

Efficiency

≥98%

Waveform distortion

Sine wave

Working Frequency(Hz)

50~60

Precision of stabilization

±(1-5)% can be set

Time of stabilizing

If the different voltage value is 10% of rated input




voltage,time of stabilizing will be shorter than 1.5s

Anti interference capability

Peak suppression input 4000V pulse width 2S,
output less than 2V 25kA peak current 0.4us impact twice

Filtering performance

Frequency 0.15m-10G insertion loss,
differential mode 70-100dB,commom mode 100dB