Tripe Phase Output AC/AC Voltage Regulator with 30kw output
Technical Features:
1) Using the sixth generation efficient IPM intelligent module from Japanese Mitsubishi, high efficiency and stable performance. It with powerful protection function, the protection for short circuit, over load, over temperature is more safe and reliable. It's service life can up to 15 years or more.
2) Two kinds of start mode: Reduction Voltage Start and Variable Frequency Start. Customers can set start mode according to the type of their load. This function is very convenient for users and also reduce frequency converter's usage, which reduced the cost of equipment investment, easy to connect wires and control.
3) Pure sine wave output with good transient response less than 50ms, waveform distortion is very little, higher conversion efficiency and stable output voltage.
4) Adopted low frequency transformer which ensure the input voltage and output voltage are completely electrical isolated to avoid interference.
5)Using the SVPWM space vector algorithm, high conversion efficiency, high instantaneous power and low no-load loss conversion efficiency can reach more than 94%, no-load loss is small.
6) Output AC Power is suitable for all types of electric appliances, electric tools, electric motors etc. higher capability of driving load.
7) Converter has the function of filtering the grid disturbance and interference at the same time, which is a good performance of stabilized voltage and frequency power, to provide a more stable and pure power supply environment for the backend devices.
8) Output perfect protection function, with output over-voltage, overload, short circuit, over temperature, self-diagnosis protection and other protection.
9) High conversion efficiency, high instantaneous power and low load loss.
10) The input voltage, output voltage, frequency and phase can be custom made.
11) input single-phase voltage range: 160-250VAC (if other voltage can be customized), frequency range 30-100HZ. Output three-phase voltage 220V-380V can be set, the frequency range of 40-70HZ can be set.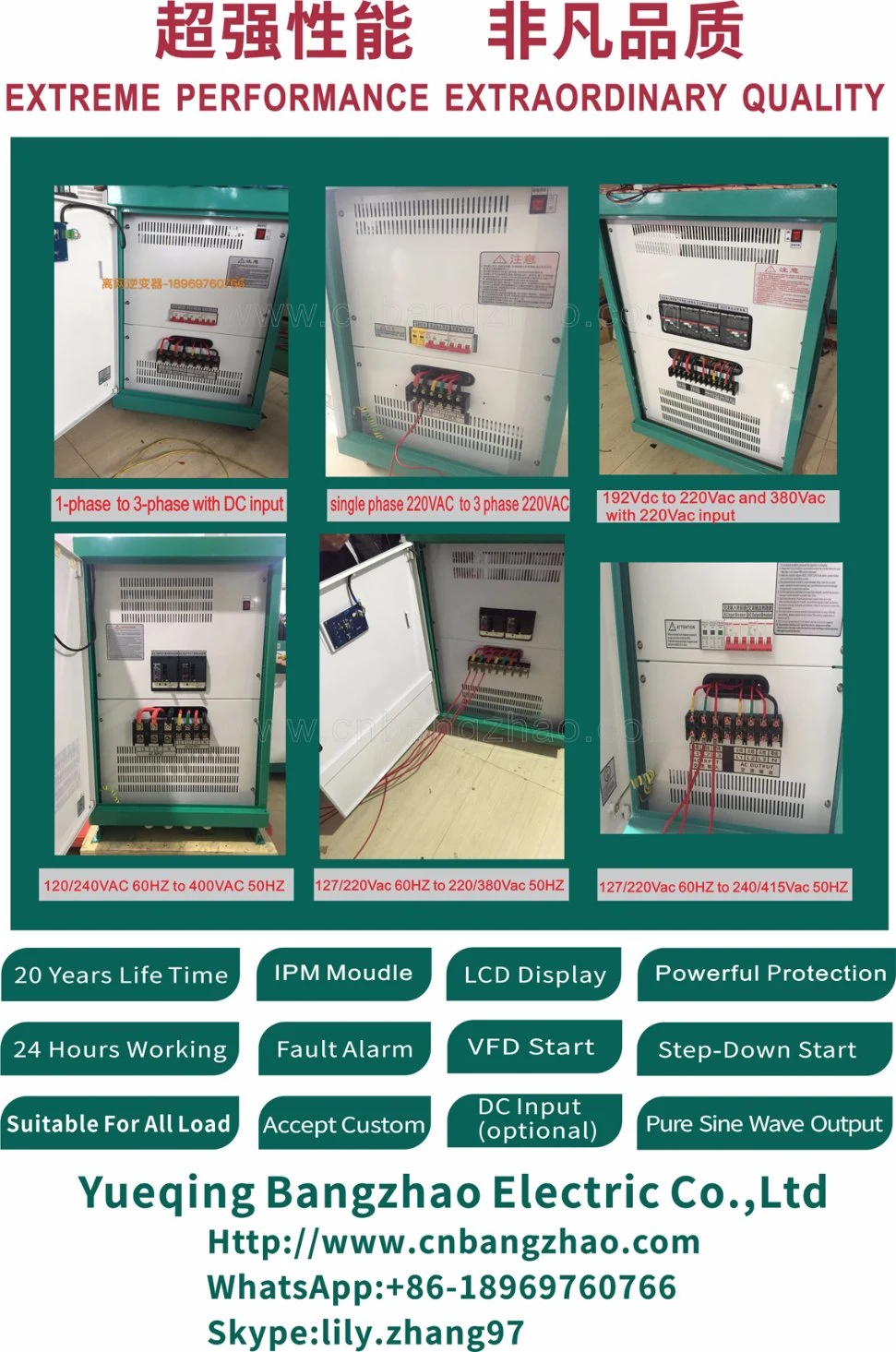 Model
BZT-30KW
Isolation mode
Low Frequency Transformer
AC Input
Input rated voltage (Vac)
Single phase 220V
Input rated voltage range
110/120/220/230/240V/380V/415V/440V/480Vac optional
Input rated current(A)
136A
AC Output
Rated output power
30KW
Output waveform
Pure sine wave
Phases
Three phase, 4 wire
Output rated voltage
380VAC ±3%
Output voltage range
220/380/400/415/440/480Vac optional
Output rated current
45.5A (phase current)
Output Frequency
50Hz/60Hz±0.05Hz
Power Factor(PF)
1
Overload Ability
150%, 10s
Efficiency
>94%
Waveform distortion rate (THD)
<3%(Linear load)
Dynamic Response (0 to 100% load)
5%,≤50ms
Display
LCD
Running mode
Working continuously
Electrical insulation properties
2000Vac, 1 Minute
Protection function
Protection
Input under voltage, over voltage, output over-current, short circuit, overheating etc.
Cooling method
Fan-cooled
Short-circuit protection
No automatic recovery, need to restart the machine
Working environment
Ambient temperature
-15~+55ºC
Using environment humidity
0~90%,No condensation
Noise ( 1 meter)
≤50dB
Degree of protection
IP20(indoor)
Using altitude(m)
≤2000
Dimension (mm)
700x750x1300mm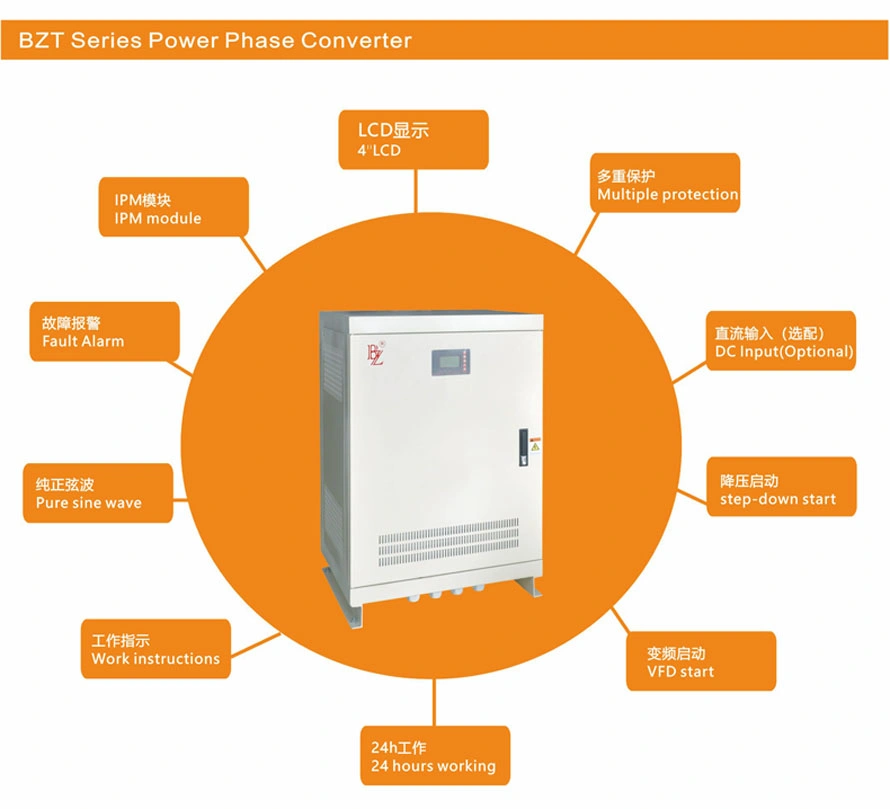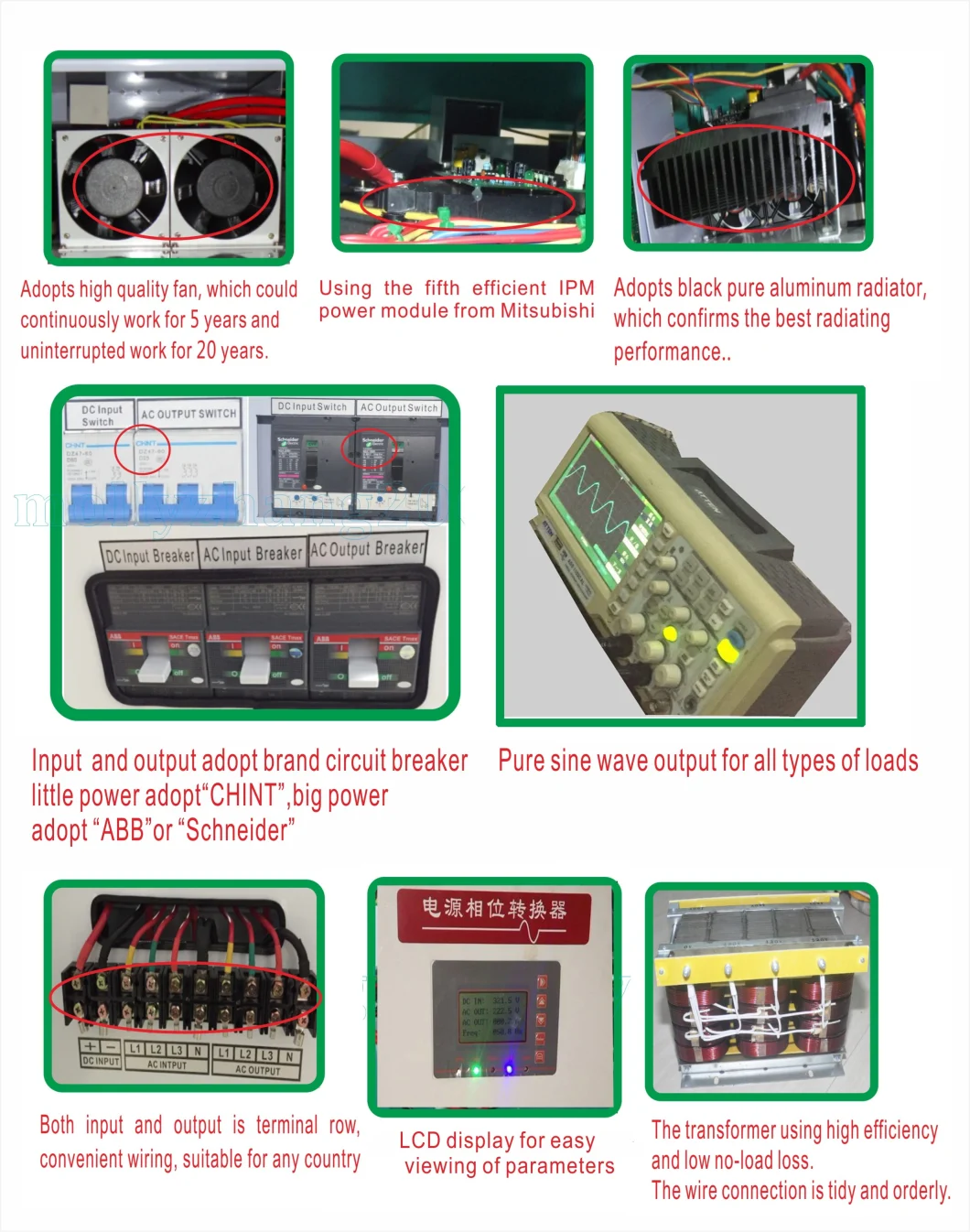 Voltage and frequency converter,
1,50HZ to 60HZ or 60HZ to 50HZ
2,Single phase 220VAC to 3 Phase220VAC
(L+N=120VAC to L1+L2+L3=220VAC,L1,L2,L3+N=127VAC)
3,2 phase 240VAC to 3 phase 220VAC
(L1+L2=240VAC,L1,L2 +N=120VAC to L1+L2+L3=220VAC,L1,L2,L3+N=127VAC )
4,3 Phase 220VAC to 3 phase 380VAC
(L1+L2+L3=220VAC,L1,L2,L3+N=127VAC to L1+L2+L3=380VAC,L1,L2,L3+N=220VAC)
5,3 Phase 380VAC to 3 phase 240VAC
(L1+L2+L3=380VAC,L1,L2,L3+N=220VAC to L1+L2+L3=240VAC,L1,L2,L3+N=138VAC)
Also can choose with DC input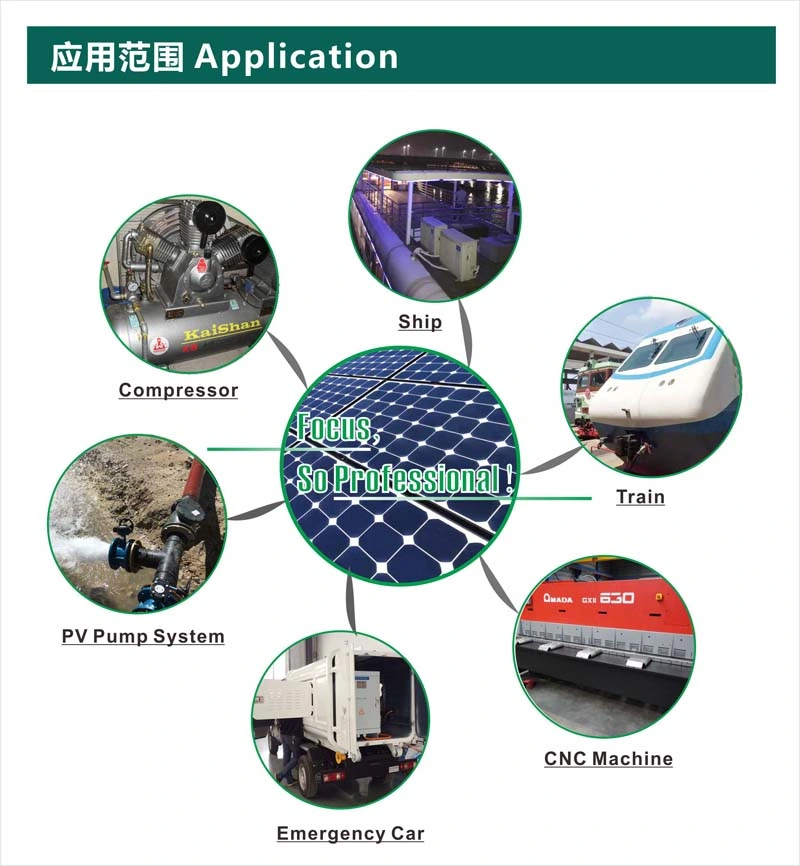 FAQ:
Q 1. What's the payment term?
A. We accept TT,Western Union,Paypal,MoneyGram.
Q 2.How's the delivery time ?
A. Is due to order quantity, usually it will take about 3-7days for sample production,
Q 3.Tell me the standard of package?
A. For the small capacity, it use carton, but for big capacity, we should use honeycomb carton and pallet or wooden case for protection.
Q 4.Would you accept to use our logo ?
A.It's no problem to do OEM.
Q 5.We want to know month capacity.
A. It depends on which model.For example for relay type small capacity , month capacity can reach near 2000pcs and big capacity near 500pcs.
Q 6.Where is your market?
A. Our products are popular in Australia,South America,Philippines,Italy, America, Pakistan and so on.Some of them are our regular customers and some of them are developing. We hope you can join us and make mutural benifit from our cooperation.
Q 7. What kind of certificate you have ?
A. Our company already achieve ISO9001, and for products, we have CE, SAA, G83 G59 etc .
Q8. What is the warranty period ?
A. Normally 1 year .
Q 8.How about the lifetime?
A:The life time for inverterl is 15-20years.
OEM Services
1.Logo
Please offer us your own high resolution logo in JPG format,there should be two colors at most in the logo and there should be no gradient effect in the logo.
2.Label
Please offer us your own model numbers.
3. Manual
Please offer us the finished manual file that can be printed directly.
Lead Time
1.Sample orders will be delivered from our factory within 3-7 working days.
2.General orders will be delivered from our factory within 15-30working days.
3.Big orders will be delivered from our factory within 45 working days at most
Shipment
1.By EMS,DHL,FedEx,TNT,UPS or other express.
2.By our forwarding agent(by air or by sea).
3.By your own forwarding agent.
4.By domestic forwarding agents to any city in China.