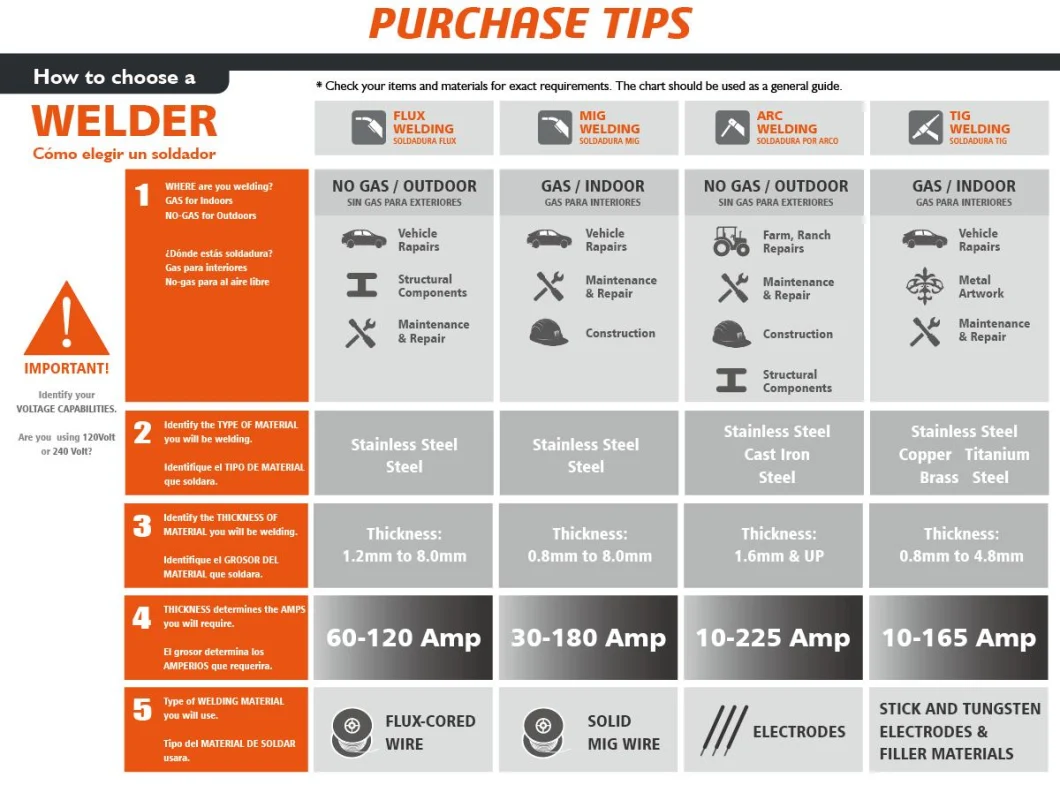 The latest DECAPOWER multi-function ECO series MIG-140/160/180 GAS/GASLESS inverter welding machine is capable of welding or jointing anything.

MIG-140/160/180

ECO handles 3 in 1 function MIG/MAG/FLUX/MMA in one unit and produce smooth accurate work!

Incorporating the latest MIG/MAG/MMA Technology, perfect for all-position welding with outhandling thin metal results and almost zero spatter cleanup! The ECO Series delivers a powerful 30A-180A current with super stable arc force control - fabrication, repairs, metal body works, the MIG-180 ECO does it well !

The MIG-

MIG-140/160/180

is a breakthrough machine, utilizing the efficiency and reliability of Multiple IGBT inverters allowing a huge increase in duty cycle, it means you can push this powerhouse to the limit and beyond! Incorporating the latest IGBT Inverter Technology, it is suitable for welding stainless steel, copper, iron, brass, titanium, carbon steel , aluminum and more.

The

MIG-140/160/180

features state-of-the-art single roller bearing all metal wire drive, precise digital controls for both Voltage and Current with infinite adjustment of weld strength and wire feed speed and an advanced protective circuit to prevent overload/overheating.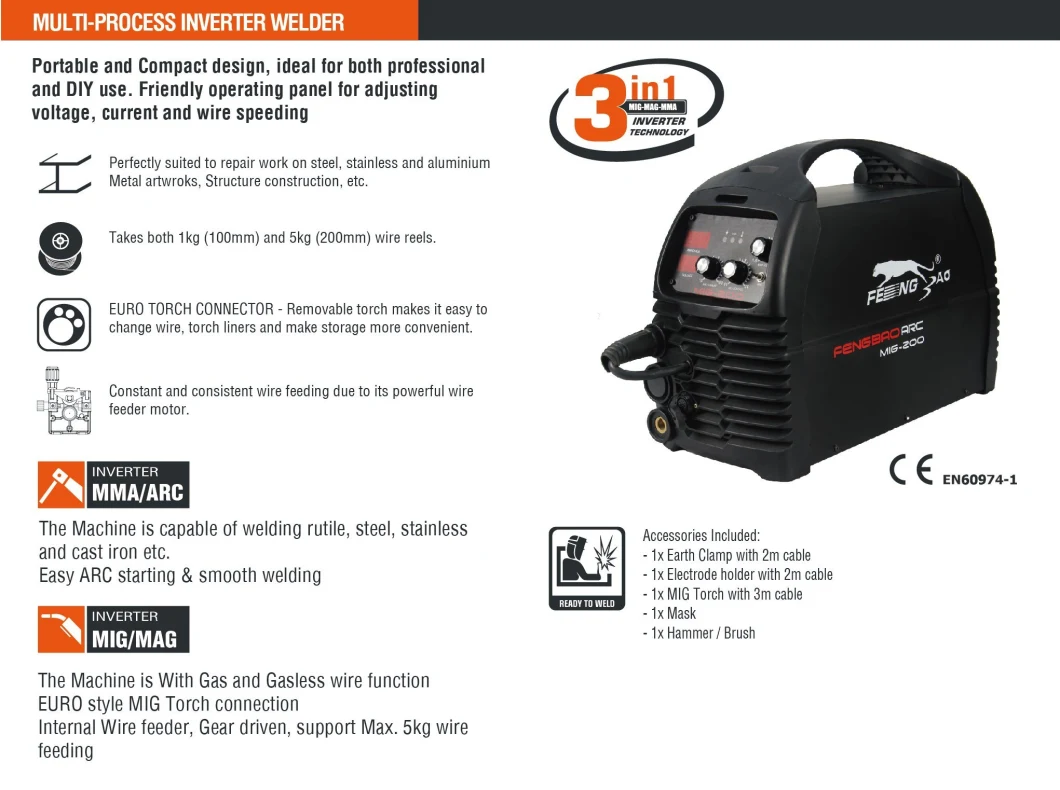 | | | | |
| --- | --- | --- | --- |
| Model | ECOMIG-140 | ECOMIG-160 | ECOMIG-180 |
| Type | | | |
| Rated Input Voltage(V) | IGBT INVERTER | IGBT INVERTER | IGBT INVERTER |
| Rated input Frequency(Hz) | 50/60Hz | 50/60Hz | 50/60Hz |
| Rated Input Power (Kw) | 4.3KW | 5.5KW | 6.5KW |
| Open Circuit Voltage (V) | 60V | 60V | 60V |
| Output Current MIG/MAG(A) | 20 ~140A | 20 ~ 160A | 20 ~ 180A |
| Output Current MMA (A) | 20 ~ 120A | 20 ~ 140A | 20 ~ 160A |
| DC LIFT TIG welding | Available | Available | Available |
| Rated Duty Cycle (%) | 60% | 60% | 60% |
| Efficiency (%) | 85% | 85% | 85% |
| Insulation Class | F | F | F |
| Protecting Grade | IP21S | IP21S | IP21S |
| Electrode Welding Support | 1.6 ~ 3.2mm | 1.6 ~ 3.2mm | 1.6 ~ 4.0mm |
| Welding wire Support | 0.6mm/0.8mm/1.0mm | 0.6mm/0.8mm/1.0mm | 0.6mm/0.8mm/1.0mm |
| Quick Connector | DKJ35-50 | DKJ35-50 | DKJ35-50 |
| N.W./G.W. (KG) | 11KG/18KG | 11KG/18KG | 11KG/18KG |
| Machine Size (mm) | 520x320x400mm | 520x320x400mm | 520x320x400mm |
| Pacakging | Brown Carton | Brown Carton | Brown Carton |
| Carton Dimension (mm) | 620x380x450mm | 620x380x450mm | 620x380x450mm |
| | | | |
| | | | |
| | | | |
| | | | |
| | | | |
| | | | |