Main technical parameters
1.Rated capacity: 3kVA
2.Output current I: AC 0-1000A, 0-3V
Output current I: AC 0-500A, 0-6V
3.Voltage measurement accuracy: 1%FS + 3digits
4.Current measurement accuracy: 1%FS + 3digits
5.Time: 0~9999 S
6.Supply voltage: AC220V + 10%, 50Hz + 1 Hz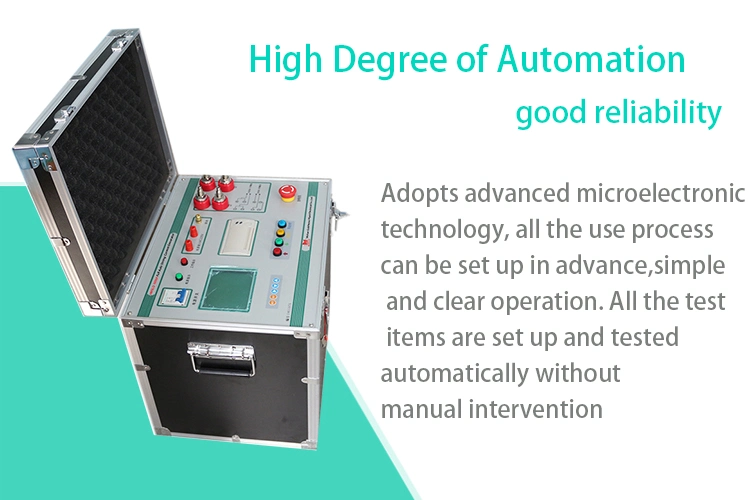 Advantage
Current, voltage, time, status information and prompt information and other large screen LCD

display, reading is clear and intuitive;

All English interface, simple operation, and suitable for a variety of applications

Touch button operation, all functions can be set by button to improve the safety and reliability.

All digital calibration methods which reject old potentiometer adjustment, it is extremely

convenient to use at field, and test accuracy is easy to control;

Operation reminder function, guided operation, you can also skillfully manipulate without

operating instructions;

In the test process, the screen has flashing high voltage symbol display, always remind the

operator to pay attention to safety;

Display test result which can automatically judge test result ( passed or failed);

Sound discrimination, when test passes fails, the equipment will send out different alarm sound, and test personnel can directly distinguish the test result as per alarm sound;

Pause function, when automatic control, this function can be achieved at any point of

current up / down, pause time can be flexibly mastered by test personnel, easy to observe the

condition of test sample;

Test time can be arbitrarily set form 0 ~ 9999 seconds (minute);

Automatic timing function, automatic control, when the current automatically rises to the set

value, automatic start time, when the time to show the test results, the device automatically back

to zero;

Manual timing function, manual control, the timer can be manually started, when test time up,

the device automatically back to zero;

Manual control mode, this mode is similar to the electric mode: up,down, increase /decrease

by

the button control, equipment automatically determine the upper / lower limit, over-current

protection function, manual control of the whole test process, according to the needs of

operation;

Stop / emergency button, manual recovery;

Current rise and fall speed intelligent control, when

voltage close to the target voltage, the

speed of the boost will automatically slow down;

Communication, optional communication function, combined with our company's

professional design of control software, remote control and data monitoring. The control

software has many practical functions, such as data record, data management, current / voltage

time curve, report form and so on. It can be used in some unattended tests;

When over-current or other failures, immediate protection, accurate and reliable;

The use of hardware and software anti-interference technology combination, stable

performance, strong anti-interference ability, the test will not appear crash, black screen, flower

screen and other anomalies.